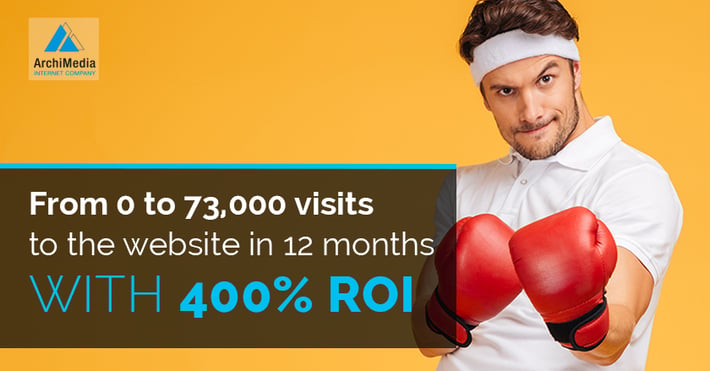 This is the story of Viessmann's inbound marketing success with ArchiMedia, who thought outside of the box to implement a creative solution and resolve their client's challenges.
About Viessmann
The Viessmann Group is a leader in the manufacture of boilers and heating and climate-control systems for homes, businesses and industry. It is a German company with offices and subsidiaries in various countries across the globe, including Italy. This family enterprise was founded in 1917, has 12,000 employees, and the group's turnover amounts to € 2.25 billion. In Italy the turnover is over € 110 million with 240 employees.
The buyer persona includes:
Families, whose main objectives are the efficiency of the equipment and savings made. They want to find information on the Internet, they want to know what will be needed even in a more distant future to make the best investment in their own home. This is the main buyer persona.
Designers, who recommend the type of heating or cooling systems for new-builds.
SME entrepreneurs.
Building managers.
Viessmann's challenges
Challenge 1: End users no longer get their information from plumbers, but online.
Whilst until recently people would fully rely on their plumber to make a choice for the installation and upgrading of a heating system, with the advent of the Internet today they find information online before contacting a distributor (who are often the plumbers themselves). They only contact the plumber at the very last minute, immediately preceding the purchase, after already having considered the options available on the market.
For large companies such as Viessmann, it is important to form an opinion using the Web, thus increasing their own online communication and endeavouring to outperform the competition.
Challenge 2: Plumbers struggle to sell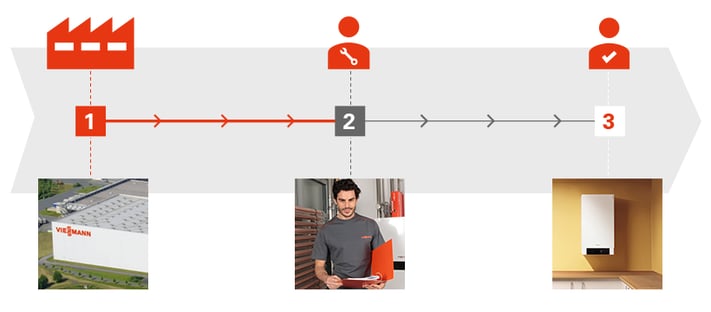 The sale of boilers in Italy is like a chain with several links: the factory produces the boilers, sells them to more than 8.000 plumbers (700 reselled partners) spread throughout the country, who in turn sell them to the end user and install them. In the Viessmann chain, these plumbers, as they struggle to sell, have become the weak link with the advent of the Internet.
Back in the day, in order to purchase a boiler or any other heating equipment, the end user would find the installer by word of mouth, in the yellow pages or through advertising.
Today, thanks to the Internet things have changed completely. First and foremost, people find information on the Internet and then they rely on whoever they find online. This has radically changed the heating market as plumbers used to be able to sell thanks to their own professional standards, today it is much more difficult to attract customers if they are not backed by an online strategy.
This challenge was crucial to Viessmann, as it was no isolated case, but applied to all Viessmann partner plumbers, who in Italy alone total more than 700, and it was impossible for customers to resolve it alone.
In the beginning Viessmann did not worry about communication for the end user, as it only had to deal with its own actual customers (plumbers). Today, with the inbound marketing project, on the other hand, we wanted to educate families, contractors, designers and building manager.
Solutions
At the end of 2015 Stefania Brentaroli, marketing manager in Viessmann, having been attracted by an inbound marketing strategy, contacted us after having seen one of our posts on LinkedIn about lead generation.
Objective: lead generation for plumbers.
Solution 1: blog + social
Blog
We have created a Viessmann company blog with more than 120 SEO optimized posts, which answer end users' questions on Google. We have studied all of the most frequently searched keywords in Italy on heating and have created articles that would attract traffic and explain why Viessmann products are better than the competition.
We have influenced the opinions of thousands of Italians every month.
The results today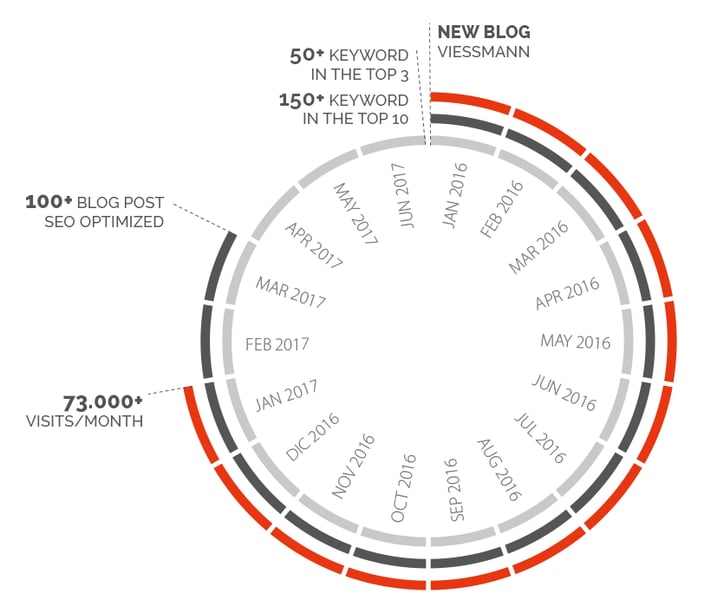 More than 50 keywords in the Google TOP 3 in 18 months
More than 150 keywords in the Google TOP 10 in 18 months
More than 120 SEO articles thanks to the HubSpot tool
From 0 to 73,000 visits in 12 months
More than 270.000 visits from organic search traffic, i.e., people who have found the blog on Google and have read an article
More than 45,000 organic visits in the month of January alone, when the sale of boilers peaks
Every month traffic increases. Below the data for the first year after the blog went live.

We managed to create a completely new blog in a previously non-existent domain and to achieve more than 73,000 visits a month.
Social media
For such a famous brand, a funnel based on organic research and without advertising had to work. In order to avoid PPC campaigns on Google or social media, we capitalised on the large number of partners across the entire national territory whom we encouraged to share all the blog posts on their own company Web pages.
The results today
Through social media mass sharing we have managed to save hundreds of Euros for each article, achieving:
Over 30,000 visits to the site from social media
Over 400 contacts from social media
A few examples of sharing can be found below.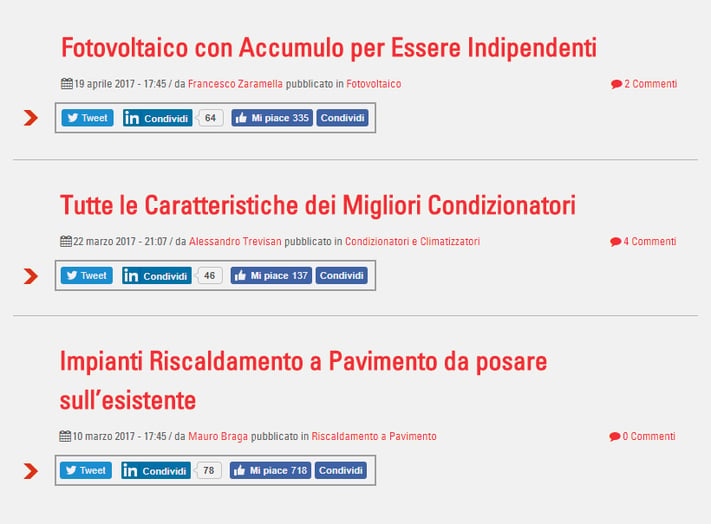 Solution 2: ebooks + Landing Pages + Workflows
Ebooks + Landing Pages
In order to help Viessmann partner plumbers to sell throughout Italy, we have applied the lead generation principle and increased the contact database month after month across the entire Italian territory. How?
After having read a blog post, we invite readers to explore the subject in depth with specific guides (ebook), which in order to be downloaded require the submission of a form on the Landing Page created with HubSpot.
In this way we have collected contact details for more than 10,000 individuals (of whom more than 4,000 from organic traffic alone), who need heating equipment and who are familiar with Viessmann products (because they have read the contents of blog and guides).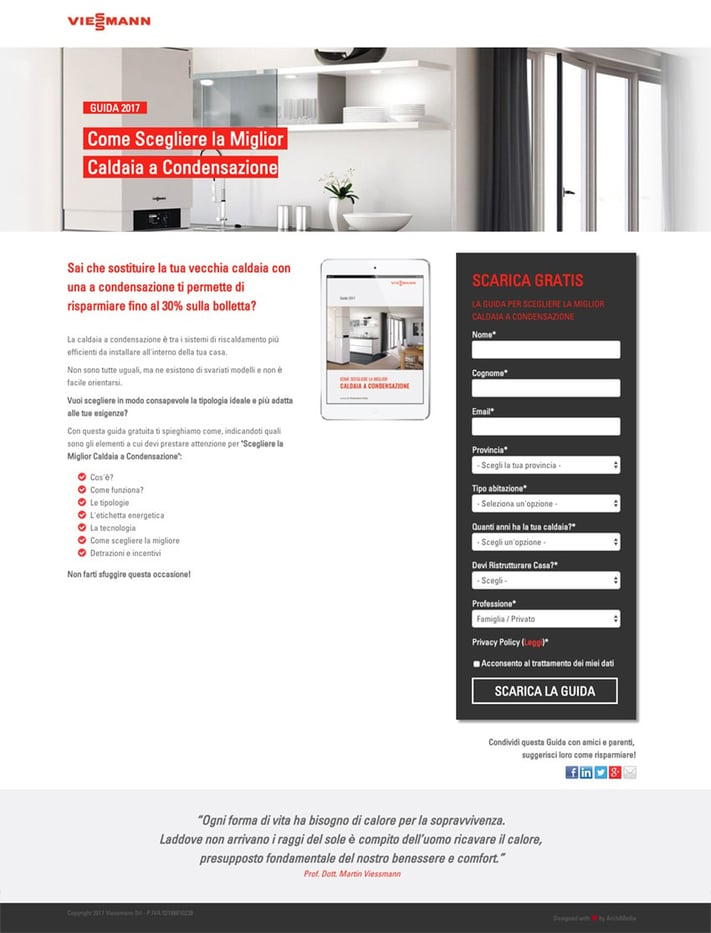 Workflows
Subsequently we have automated the lead qualification process through DEM and HubSpot's workflow. For each segment of the buyer's journey we have created ad hoc content and forms:
Awareness: the buyer persona's main concern is that of energy and financial savings. They can therefore download the guide "How to save energy in the home with efficient heating"
Consideration: solutions to this problem vary a great deal depending on the type of building to which the heating is applied. To this end we have added the field "in which product are you interested?" form where respondents can choose one of the heating systems best suited to their own home. Based on this response a workflow is automatically triggered, which sends them the guide on the product in which they are interested. Sending specific emails instead of providing the same content to everyone has increased the email opening rate from 20% to 50% and clicks from 5% to 20%.
Decision: after the contacts have inquired about the best product to buy, we invite them to request a consultation with the installer nearest to their home, who proves to be fast and reliable.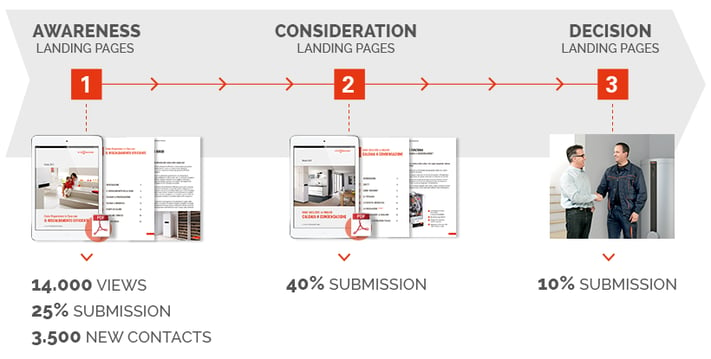 We have forwarded all the qualified leads requesting a quote directly to the installers all over Italy, who can contact them, prepare a quote and make a sale, thus simplifying the pre-sales and customer contact stage.
Today, plumbers can focus on the work they do best, i.e., the installation of the heating system, delegating numerous steps in the pre-sales stage and only contacting the end user in the final purchasing stage, thus minimising the sales effort.
The results today
Over 200 requests for quotes every month in winter
Over 150 per month in summer, when demand drops due to the seasonal nature of the product
400% contacts compared to the previous year
200% requests for quotes inbound vs outbound
The strategy used by Viessmann Italia has been the best lead generation strategy among all global subsidiaries!!
ROI
Based on a sales average of €7,000 for a boiler, with approximately 2,000 requests for quotes and 20% closing the deal, Viessmann partners have increased turnover by €280,000 thanks to inbound marketing.
With a ROI exceeding 400%!
Conclusions
The winning strategy in this case has been to think outside of the box. Despite the fact that Viessmann's actual customer is the installer, we have used inbound marketing to attract families, resolving the problems of plumbers and building their loyalty as customers.
The job has been so well done that even HubSpot has considered carrying out their own case study!
The project has been so successful that after a few months Viessmann has entrusted ArchiMedia with the inbound marketing for the industrial heating segment addressing factories, hotels and large enterprises, with another portal and another blog.
What Viessmann says
"For the first time, we're communicating directly with our end users and what's more, they are giving us feedback. We're building our brand and creating trust."

Stefania Brentaroli - Marketing Manager
Do you want a successfull inbound strategy like them? Tell us about your project!